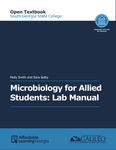 Files
Download Accessible PDF (4.1 MB)
Download 1-Microscopy and Staining.pdf (2.7 MB)
Download 2-1-Gram Stain Procedure.pdf (24 KB)
Download 2-2-Endospore Stain Procedure.pdf (23 KB)
Download 2-3-Acid-fast Stain Procedure.pdf (24 KB)
Download 3-1-Carbohydrate Fermentation F.pdf (5.1 MB)
Download 3-2-Starch Agar F.pdf (13 KB)
Download 3-3-Gelatin Agar F.pdf (14 KB)
Download 3-4-Catalase F.pdf (14 KB)
Download 3-5-Motility Agar F.pdf (2.7 MB)
Download 3-6-SIM Agar F.pdf (8.1 MB)
Download 3-7-Tryptone Broth F.pdf (2.3 MB)
Download 3-8-MR-VP Broth F.pdf (3.7 MB)
Download 3-9-Simmons Citrate Agar F.pdf (1.5 MB)
Download 3-10-Urea Broth F.pdf (1.8 MB)
Download 3-11-Phenylalanine Agar F.pdf (2.0 MB)
Download 3-12-Triple-Sugar Iron Agar F.pdf (5.0 MB)
Download 3-13-Levine EMB Agar F.pdf (18 KB)
Download 4-Appendix Laboratory Safety Contract (Microbiology).pdf (44 KB)
Description
This open lab manual is a remix of Openstax Microbiology, CC-BY 4.0, and created through an Affordable Learning Georgia Round Six Textbook Transformation Grant.
The lab manual was made to be used with the remixed textbook Microbiology for Allied Health Students, and the textbook has a set of Instructional Materials.
Authors' Description:
This lab manual was created to support a microbiology course for allied health students.
The first section of the manual was adapted from the OpenStax Microbiology textbook, of which a remixed version, Microbiology for Allied Health Students, is used as the text for the course.
The next section, staining methods, encompasses three essential staining procedures used in any microbiology lab.
The manual concludes with descriptions of the major biochemical tests students must perform in order to identify an unknown microorganism. While many traditional lab manuals are lengthy and comprehensive, descriptions of the labs in this manual are kept minimal to encourage students to further research the procedures and results on their own.
The appendix includes a safety contract that each student must sign and submit to the instructor at the beginning of the semester.
This manual was created in partial fulfillment of a grant from the University System of Georgia's Affordable Learning Georgia Textbook Transformation initiative. Special thanks go to Sara Selby for editing and photography.
Accessible files with optical character recognition (OCR) and auto-tagging provided by the Center for Inclusive Design and Innovation.
Course Title
Microbiology for Allied Health Students
Creative Commons License


This work is licensed under a Creative Commons Attribution 4.0 International License.
Publication Date
Fall 2017
Publisher
University System of Georgia
Keywords
biology, allied health
Disciplines
Biology | Medicine and Health Sciences
Recommended Citation
Smith, Molly and Selby, Sara, "Microbiology for Allied Health Students: Lab Manual" (2017). Biological Sciences Open Textbooks. 16.
https://oer.galileo.usg.edu/biology-textbooks/16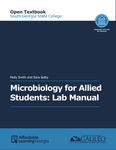 Included in
COinS