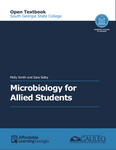 Files
Download Accessible PDF (1st Half) (23.1 MB)
Download Accessible PDF (2nd Half) (19.5 MB)
Download Chapter 1 An Invisible World.pdf (1.7 MB)
Download Chapter 2 The Cell.pdf (3.6 MB)
Download Chapter 3 The Eukaryotes of Microbiology.pdf (3.1 MB)
Download Chapter 4 Acellular Pathogens.pdf (1.9 MB)
Download Chapter 5 Microbial Mechanisms of Pathogenicity.pdf (1.6 MB)
Download Chapter 6 Innate Nonspecific Host Defenses.pdf (2.1 MB)
Download Chapter 7 Adaptive Specific Host Defenses.pdf (1.8 MB)
Download Chapter 8 Diseases of the Immune System.pdf (1.8 MB)
Download Chapter 9 Control of Microbial Growth.pdf (2.1 MB)
Download Chapter 10 Antimicrobial Drugs.pdf (2.3 MB)
Download Chapter 11 Disease and Epidemiology.pdf (1.7 MB)
Download Chapter 12 Skin and Eye Infections.pdf (2.4 MB)
Download Chapter 13 Repiratory System Infections.pdf (3.1 MB)
Download Chapter 14 Urogenital System Infections.pdf (2.5 MB)
Download Chapter 15 Digestive System Infections.pdf (4.0 MB)
Download Chapter 16 Circulatory and Lymphatic System Infections.pdf (3.3 MB)
Download Chapter 17 Nervous System Infections.pdf (2.6 MB)
Download Chapter 18 Mechanisms of Microbial Genetics.pdf (2.1 MB)
Download Edited Appendices.pdf (509 KB)
Download Glossary and Answer Key.pdf (1.0 MB)
Description
This open textbook is a remix of Openstax Microbiology, CC-BY 4.0, and created through an Affordable Learning Georgia Round Six Textbook Transformation Grant.
The textbook has the following supplemental materials within this repository:
This is a collection of instructional materials for the following open textbook and lab manual:
Authors' Description:
Microbiology for Allied Health Students is designed to cover the scope and sequence requirements for the single semester Microbiology course for non-majors and allied health students. The book presents the core concepts of microbiology with a focus on applications for careers in allied health. The pedagogical features of Microbiology for Allied Health Students make the material interesting and accessible to students while maintaining the career-application focus and scientific rigor inherent in the subject matter.
The scope and sequence of Microbiology for Allied Health Students has been developed and vetted with input from numerous instructors at institutions across the U.S. It is designed to meet the needs of most microbiology courses allied health students.
With these objectives in mind, the content of this textbook has been arranged in a logical progression from fundamental to more advanced concepts. The opening chapters present an overview of the discipline, with individual chapters focusing on cellular biology as well as each of the different types of microorganisms and the various means by which we can control and combat microbial growth. The focus turns to microbial pathogenicity, emphasizing how interactions between microbes and the human immune system contribute to human health and disease. The last several chapters of the text provide a survey of medical microbiology, presenting the characteristics of microbial diseases organized by body system.
Accessible files with optical character recognition (OCR) and auto-tagging provided by the Center for Inclusive Design and Innovation.
Course Title
Microbiology for Allied Health Students
Creative Commons License


This work is licensed under a Creative Commons Attribution 4.0 International License.
Publication Date
Fall 2017
Publisher
University System of Georgia
Keywords
microbiology, allied health
Disciplines
Biology | Medicine and Health Sciences | Microbiology
Recommended Citation
Smith, Molly and Selby, Sara, "Microbiology for Allied Health Students" (2017). Biological Sciences Open Textbooks. 15.
https://oer.galileo.usg.edu/biology-textbooks/15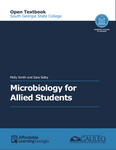 COinS