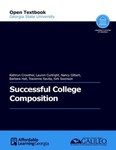 Files
Description
NOTE: The web-hosted Third Edition is currently down at Georgia State University. We have removed this as the primary link until GSU can repair the issue.
Authors' Description:
Third Edition (2019):
We made two significant changes to the textbook: we reformatted it from a PDF to modules within our Learning Management System (iCollege) and as an open-web-based book. The modularized version is downloadable and exportable and will live on the ALG and GSU websites. The web-based book will be ready by August 2019 and will also live on the ALG and GSU websites.
The other significant change we made was to write an instruction manual that provides guidance to who we see as the primary audience for the manual: new composition instructors. In our department, these are newly-hired part-time instructors or full-time teachers returning to teaching composition or who have never taught it before. When we surveyed the faculty about what they wanted from an instruction manual, we got a number of requests for sample papers, but ended up going in the reverse direction for two reasons: first: the department leadership is moving to create an online resource library into which we hope many faculty will put their assignment sheets, exercises, scaffolding, and sequencing.
Second Edition:
This text is a transformation of Writing for Success, a text adapted by The Saylor Foundation under a Creative Commons Attribution-NonCommercial-ShareAlike 3.0 License without attribution as requested by the work's original creator or licensee.
Kathryn Crowther, Lauren Curtright, Nancy Gilbert, Barbara Hall, Tracienne Ravita, and Kirk Swenson adapted this text under a grant from Affordable Learning Georgia to Georgia Perimeter College (GPC, now part of Georgia State University) in 2015. Section 1.3 was authored by Rebecca Weaver. This text is a revision of a prior adaptation of Writing for Success led by Rosemary Cox in GPC's Department of English, titled Successful College Writing for GPC Students (2014, 2015).
Writing for Success, as revised by GPC, is not provided here, but it is considered a first edition of the adapted text.
Accessible files with optical character recognition (OCR) and auto-tagging provided by the Center for Inclusive Design and Innovation.
Course Title
English Composition I and II
Course Number
ENGL 1101, ENGL 1102
Creative Commons License


This work is licensed under a Creative Commons Attribution-NonCommercial-Share Alike 4.0 International License.
Publication Date
Spring 2016
Publisher
University System of Georgia
Keywords
composition, thesis statements, essays, research papers
Disciplines
English Language and Literature
Recommended Citation
Weaver, Rebecca; Bost, Lynne; Kassorla, Michelle; McKinney-Holley, Karen; Crowther, Kathryn; Curtright, Lauren; Gilbert, Nancy; Hall, Barbara; Ravita, Tracienne; and Swenson, Kirk, "Successful College Composition (3rd Edition)" (2016). English Open Textbooks. 8.
https://oer.galileo.usg.edu/english-textbooks/8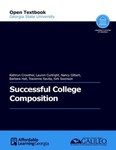 Included in
COinS