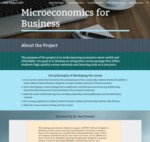 Microeconomics for Business
Description
This web-based open textbook and course for Microeconomics for Business was created under a Round Eight ALG Textbook Transformation Grant. The text is a remix including newly-created textbook chapters and chapters from OpenStax Principles of Microeconomics.
Original chapters are also available for download in the repository.
Topics include:
Introduction to Economics
Demand and Supply in Competitive Markets
Elasticity of Demand and Supply
Markets and Government
Consumer Choice
Production, Costs, and Profit
Firms' Decisions under Perfect Competition
Monopoly, Rent Seeking, and Antitrust Policies
Firms' Decisions under Monopolistic Competition
Market Concentration, Oligopoly, and Firms' Strategic Interaction
This paper has been withdrawn.