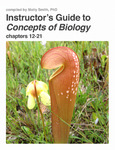 Files
Description
Authors' Description:
This Instructor's Guide contains the brief outlines of Chapters 12-21 as found in Concepts of Biology, though some underwent revision. Also, instructors will find detailed outlines of the text for use in lecturing, as well as structured outlines that may be used by students to take notes while reading the chapter or during lecture. All outlines are derived from the OpenStax text. Additionally, study guides that contain a variety of questions are provided for students.
The appendices contain Web resources where additional information can be found about the topics covered in the text; these Web resources may or may not be open resources, and copyright information is included in the appendix, but it is incumbent upon the instructor to ensure fair use. Teaching Tips are included to promote active learning and student engagement. A sample calendar is provided to illustrate the structure of the course.
A link to Sara Selby's "Virtual Tour of the Okefenokee Swamp," which is licensed through Creative Commons, is included, or, if the iBooks version of this guide is used, the tour itself is included. All photographs in this guide are by Sara Selby, and all graphics are provided by PresenterMedia.com.
Accessible files with optical character recognition (OCR) and auto-tagging provided by the Center for Inclusive Design and Innovation.
Course Title
Introductory Biology II
Creative Commons License


This work is licensed under a Creative Commons Attribution-NonCommercial-Share Alike 4.0 International License.
Publication Date
Spring 2015
Publisher
University System of Georgia
Keywords
biology, openstax, photographs
Recommended Citation
Smith, Molly and Selby, Sara, "Instructor's Guide to Concepts of Biology, Chapters 12-21" (2015). Biological Sciences Open Textbooks. 1.
https://oer.galileo.usg.edu/biology-textbooks/1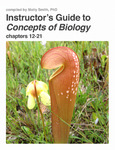 Included in
COinS